Running Google Glass PhotoSphere Viewer on Android phone
First of all sorry about my English. English isn't my native language.
One day checking latest android news I stumbled upon Google Glass XE5 system dump. Big thanks for that goes to Ron Amadeo from http://www.androidpolice.com. Till that moment I wasn't into this Glass thing what I can't say now

In comments I saw that other people have tried to run Glass apk's, but everything except Glass PhotoSphere Viewer was force closing. It gave me ardor to investigate deeper GlassPhotosphere apk although I do not consider myself a professional, but I have some knowledge and I know how to use google. First step was to install apk on my phone. After install there was no shortcut so I use other methods to launch Glass PhotoSphere Viewer and like for everyone else nothing happened. I only knew, that this app is only panorama photo viewer (judging by application name).
After this "fail" I inspected apk and saw bunch of drawables which definitely was from Android Gallery/Camera app. The only one that stood out was picture called glass_team_pano.jpg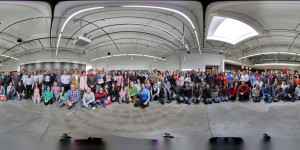 Glass Photo Sphere Viewer inspection confirmed that this apk is Android Gallery/Camera app with slight modification adding Glass package. Basically what right now this Glass PhotoSphere Viewer do is show Glass team picture as panorama photo. I think, that for now GlassPhotosphere.apk in public release is used only for Glass Easter Egg purpose. If you sneak peek into code you can find many interesting things, which are made specially for device Wingman (Glass project codename if I'm correct) and which are much more, than showing panoramic photos. Definitely Google team internally are testing panoramic photo viewing/taking/sharing functions or at least they are trying to do that.
And now to the phone part

There isn't very much to say. I simply wrote a small app which helped to run installed GlassPhotosphere.apk. Like name Glass Photo Sphere Viewer says there isn't any magic and app simply shows panoramic image using glass_team_pano.jpg as background. Just like Glass Easter Egg.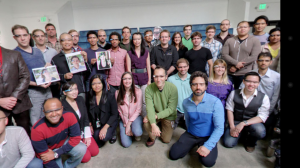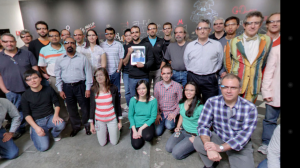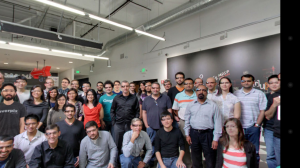 If you want to test it your self, then get and install GlassPhotosphere.apk (I will not host it) and after that install my launcher app PhotosphereLauncher. This launcher app simply launch original activity from GlassPhotosphere.apk. Use this launcher app at your own risk. I'm not liable for any damage incurred from use of this app including but not limited to: premature hair loss, monetary loss, and or spontaneous combustion.

Edited:
I successfully made a hack and was able to run Glass photosphere menu on android emulator. In this menu besides gallery and exit options you also can select New panorama (these options you can also see in appropriate xml file). I'm 99,9% sure that Google team already are testing these functions and they simply removed execution code from publicly released apk. Who knows, maybe panoramic picture taking on Glass isn't that far in future how we think…