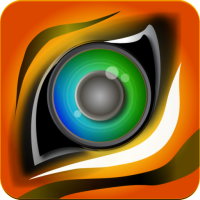 InstaEyesPic – Animal Eyes
Create stuning animal eyes with InstaEyesPic – Animal Eyes app. InstaEyesPic – Animal Eyes is a eye morphing app that gives you the ability to create animal eyes through a fast and simple process.
The main feature of this app is that you are able to create animal eyes that you will then be able to upload to Instagram as well as other social networking sites.
The best Android™ eye morphing app that allows you to transform your or your friend eyes into different animal eyes. Snap picture, position the eyes you've chosen and see the instant results. Go ahead and share the picture with friends or save it.
InstaEyesPic – Animal Eyes is first animal eyes making app in Android market. Blend your face to awesome animal eyes splits.
Please add #InstaEyesPic hashtag to your photos to get more likes and followers!
Features:
★ Simple user interface,
★ 30 animal eyes and coming more,
★ Share photo to any app like Instagram, Twitter, Facebook, Email, Bluetooth etc.
★★★ IMPORTANT ★★★
Developing quality apps requires months of effort and dedication. To keep the development going and to recover my costs, this app uses ads for monetization.
There are thousands of different phones/tablets running Android, I'm always doing my best to make my app working fine on every device. So, if you find any issue, before you post useless comments or give bad rating, please try to send me an email, and I will try to help you.

Square Instasize are available on Android Market
Get and use it now for FREE!
Screenshots
Comment, Request & Bug Report